A new & simple way to make your rides pain free.
🎁 Buy 2+ to get an extra 15% off

$124.98 [Save $40]
The Perfect Solution To Help Seniors Live An Active Life
Bike riding is one of the best (if not, the best) exercise for older folks.
The only problem is (and I'm sure you'd know this already), it causes so much pain to your body.
Whether it's the saddle hurting your butt, or lower back pain... The Air Saddle will instantly fix your problems!
Let me explain to you how it works.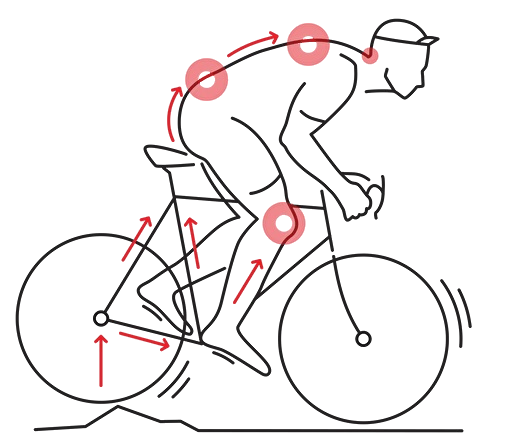 Invest In Your Health. This Isn't Just Another Bike Accessory.
Basically, the Air Saddle reduces painful shocks & vibrations to your body by 99%
This keeps your entire body comfortable!
"Perfect Solution for Seniors."
-Cyclist Magazine
"Innovative & Revolutionary"
-Bike Rumor
"This Will Get You Back On Your Bike"
-Health
"Perfect Solution for Seniors."
-Cyclist
"This Will Get You Back On Your Bike"
-Health
Philadelphia, PA - A New York physical therapist just revealed the trick of a 7 year study on how to make any bike more comfortable.
Montreal, QC - A clever new take on a century old bicycle problem.
Frequently Asked Questions
Will this work on my bike?

Yes, it's compatible with every bike on the market.

Yes, the weight limit is 150 kg // 330 lbs

No! Safety is our number one concern.




We spent hours and hours testing different materials that can withstand constant strain.




We ended up using high quality alloy steel, which is strong and durable.

Will this raise the height of my seat?

Yes, it will raise your seat by 2-3 inches.

Is it hard to install by myself?

No! Anyone can easily install it. All you need is a hex key (which is included).




You can also take a look at this video for extra help: https://youtu.be/ZNz2wJ3R94s
Free Worldwide Shipping.
United States: 7-14 Days
Canada: 10-20 Days
Australia: 7-20 Days
United Kingdom: 5-14 Days
International: 7-20 Days